Show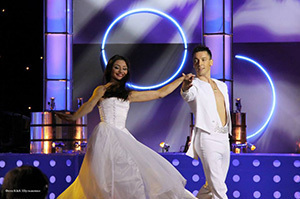 The art of Quick Change is several hundred years old and reaches back as far as the 15th century. The Japanese kabuki theater started with crude performances by a shrine dancer Akuna in the year 1603, although the use of Quick Change was most probably not added until after 1629 when women were banned from performing kabuki.
Origins of this form of entertainment can be found in a book dated 1600 describing the performance of Giovanni Gabrielle, an Italian actor performing different change of costumes and characters in the public square of Bologna. There are several types of quick change gags in the Commedia Dell Arte. Various magicians in the 1800 used quick change effects in their repertory. Castor Sax was one of them, performing the Podium Act. A related type of performance is exhibited in the Chinese dramatic art form Bain Lean.
The Italian actor and mime Leopold Fragile (1867-1936) the greatest quick-change artist of his day was used quick-changes on stage and in front of the camera from 1895 to 1922. There still exist several minutes of these films. He was the first artist to transform this surprising skill into a full evening show. At the top of his career he was performing 60 characters in the same show.
He was famous for his extraordinary ability in impersonations and his quickness in exchanging roles- so much so that while he was performing in London in the 1890s unkind rumors spread that there was more than one Fragile.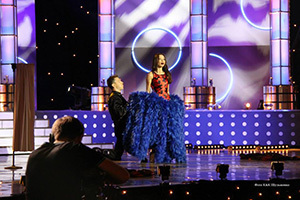 Fragile made the costume and hairpiece changes out of view of the audience in three seconds with the help of several assistants. The most difficult aspect of his performance and style was the synchronization of gesture and voice. In fact, a similar dressed assistant had taken his place so that Fragile could change costumes.
He was very popular like Houdini — he is the forefather of Quick Change (but not the first).
Quick costume change show act
1909 — 1916: Mlle. Regalia appears to be the first popular woman to perform Quick Change with prepared costumes (Fatima Mires was considered the most important at the time, but Mlle. Regalia, of French origin far outshone her performances). In a short two part act totaling fifteen minutes, Mlle. Regalia played the part of fifteen characters (men and women) with an incredible forty costume changes. The exact number of characters varies from different reports 12 characters and forty costumes, to 20 characters with 100 costumes! This is most probably due to the fact that at every curtain call she also would change costume everything right up to the stockings! Mlle. was also considered a great actress during these play lettes «The Lightning Waiter»and «Husband's Return». Skeptics were unable to believe that only one woman was playing all the parts, and so a reward of 1,000 dollars was offered to anyone who could prove otherwise. In 1916 Mlle. Regalia also appeared in two short silent films made in Germany «Was ein Weib vermag»- «As well as a broad is able»and «Regalia». Copies of bill boards and newspaper reports helped us with this research.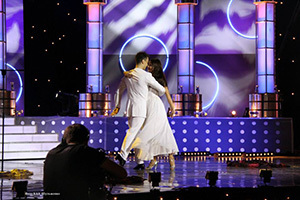 Quick Change was very popular in the 20th century right up until the twenties. After the outbreak of cinema this art fell silent. Read more in the fantastic book from Vivian Sobchack — «Meta-Morphing». Quick Change was sporadically performed by magicians; in Japanese Kabuki theatre it continued to be performed unseen by our Western world.
Another great quick change magician was The Great Lafayette (1872-1911). His excellent quick-change routine as well as dramatic illusions such as his own Lion's Bride (lady to lion) made him very popular.
The Russian style - the art of changing clothes (dressing and undressing)
There are a very few internationally acclaimed quick-change artists, all using different styles and techniques. One of the most unusual quick-change artists is the Venetian Ennis Machete, who uses only cardboard and paper for his costumes and wigs and can change into over 50 characters in one hour. Also called «The Living Cartoon», Ennis has enjoyed a worldwide success since his first appearance at the Edinburgh Fringe in 1989. He has been nominated in New York for a Drama Desk Award and for a Laurence Olivier award in London. His bi-dimensional cardboard costumes fold like origami. He has over 300 characters in his repertoire, from works of art like the Mona Lisa to modern pop stars like Eminem or Shakira.
One of the world?s classic exponents of quick change artistry is the Italian actor and performer Arturo Brachetti. The Guinness Book of Records of 2006 lists him as the fastest in the world. In 2000 he was awarded the Prix Moliere, the highest accolade in French theatre (Tony Award) for «The man with 1000 faces» where he performs 80 different characters in the two hours show. The show sold-out in Paris for 3 runs in an 1800 seats theatre. Brochette has invented and performed about 20 different acts for television and about 10 plays, produced by the National Theatre of Turin in Italy. His guard robe counts more than 350 costumes. His performances are often a series of characters one after the other or a spoken sketch in which he plays all the roles interacting with each others.
Another traditional style of quick change was performed in Moscow Circus by the duo The Sudarchikovi's, created by the 1950s. In this act the partners change costumes (color and shapes) several times covered by a sandwich screen, a piece of material or a ring with ribbons. For the finale the man throws silver confetti on the partner and her costume transformed instantaneously in white.
Another popular quick-change duo is David and Dania, whose act is very similar in style to The Sudarchikovi's. It was David and Dania who showed Keelan Leyser and Charlotte Marie the methods of how to quick change at a private seminar.